Sawan Splendor
August 21, 2023
2023-08-21 13:48
Sawan Splendor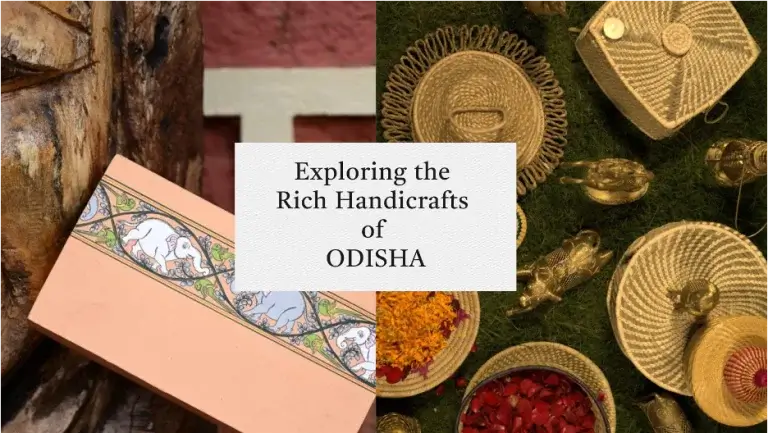 Sawan Splendor
Embrace Odisha's Rich Cultural Heritage with Atulyakarigari's Handicraft Wonder
As the monsoon season sets in, bringing with it the refreshing scent of wet earth and a riot of lush greenery, it is the perfect time to immerse ourselves in the splendour of Sawan. Odisha, a land steeped in rich cultural heritage, offers a treasure trove of exquisite handicrafts that capture the essence of this enchanting season. Atulyakarigari, a renowned brand that cherishes the essence of traditional artistry, brings forth a collection of handicraft wonders. In this blog, we will delve into the allure of Odisha's handicrafts and explore the top 10 unique handcrafted pieces that will elevate your Sawan celebrations to new heights.
Pattachitra Paintings
Originating from the Puri district of Odisha, Pattachitra paintings are a stunning blend of intricate designs and vibrant colours. These traditional art forms depict mythological tales and folklore on cloth or canvas. Adorn your walls with these artistic masterpieces, and let the stories of gods and goddesses unfold in your home during the monsoon season.
Appliqué Work
Appliqué work, known locally as "Chandra," is a unique handicraft that showcases a beautiful mosaic of colourful fabric pieces stitched together to create stunning motifs. From vibrant wall hangings to striking lampshades, these appliqué handicrafts bring life to your living spaces, mirroring the exuberance of Sawan.
Dhokra Artifacts
Dhokra craft, an ancient form of metal casting, produces exquisite figurines and artefacts. The allure of these intricate brass sculptures lies in their rustic charm and intricate detailing. Adorn your shelves with Dhokra figurines to infuse your home with traditional elegance.
Terracotta Pottery
Odisha's terracotta pottery is a must-have for those who appreciate earthy aesthetics. Handcrafted by skilled artisans, these pottery pieces range from simple pots to intricately designed showpieces. These beautiful terracotta creations add a touch of rustic charm to your decor.
Sambalpuri Textiles
Sambalpuri textiles celebrate colours and patterns and are renowned for their unique tie-and-dye designs. Embrace the monsoon spirit by draping yourself in a vibrant Sambalpuri saree or adorning your living spaces with Sambalpuri cushions and bedspreads.
Palm Leaf Engravings
Palm leaf engravings, an ancient art form, involve inscribing delicate designs on palm leaves. These intricate art pieces make for thoughtful gifts and can also be used as bookmarks or wall hangings, adding a touch of heritage to your reading nook.
Pipli Appliqué Crafts
Pipli, a small village in Odisha, is famous for its stunning appliqué crafts, especially during festive seasons. From colourful umbrellas to eye-catching garden decor, Pipli's appliqué crafts will bring vibrancy to your Sawan celebrations.
Horn Craft
Horn craft in Odisha involves shaping and carving buffalo horns into exquisite art pieces, including jewellery, showpieces, and home decor items. These unique handicrafts exhibit a blend of creativity and sustainability.
Stone Carvings
Odisha's stone carvings, prominently seen in temple architecture, also find expression in intricately carved home decor pieces. These timeless stone crafts add a touch of spirituality and artistic finesse to your living spaces.
Tussar Silk Sarees
Lightweight and elegant, Tussar silk sarees from Odisha are perfect for the monsoon season. These sarees' natural texture and earthy hues harmonise with the spirit of Sawan, making them a favourite among saree enthusiasts.
Conclusion
Sawan is a season of celebration, and what better way to embrace its splendour than by adorning your life with the rich cultural heritage of Odisha's handicraft wonders. Atulyakarigari's commitment to preserving traditional artistry allows us to cherish the essence of Sawan in its most exquisite form. From Pattachitra paintings to Tussar silk sarees, each handicraft piece on this list is a testament to Odisha's skilled craftsmanship and cultural legacy. So, this monsoon season, let the allure of Odisha's handicraft wonders enrich your life and home, creating an atmosphere of Sawan splendour all around.