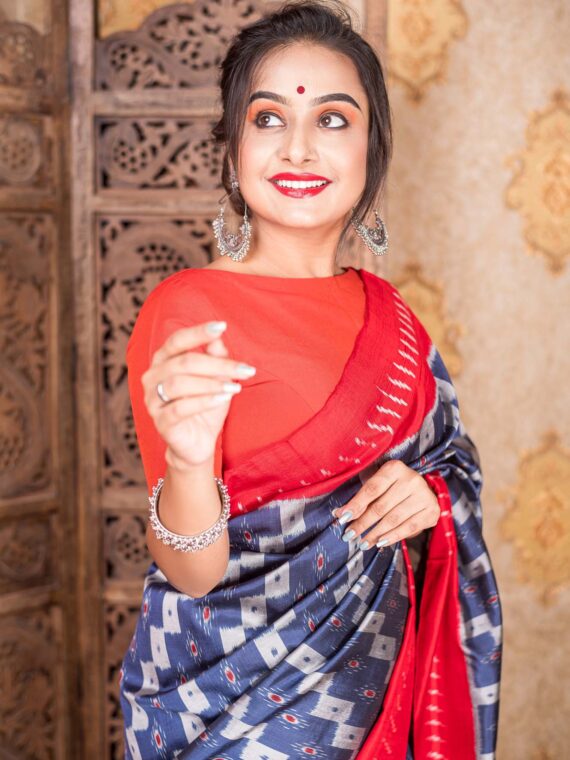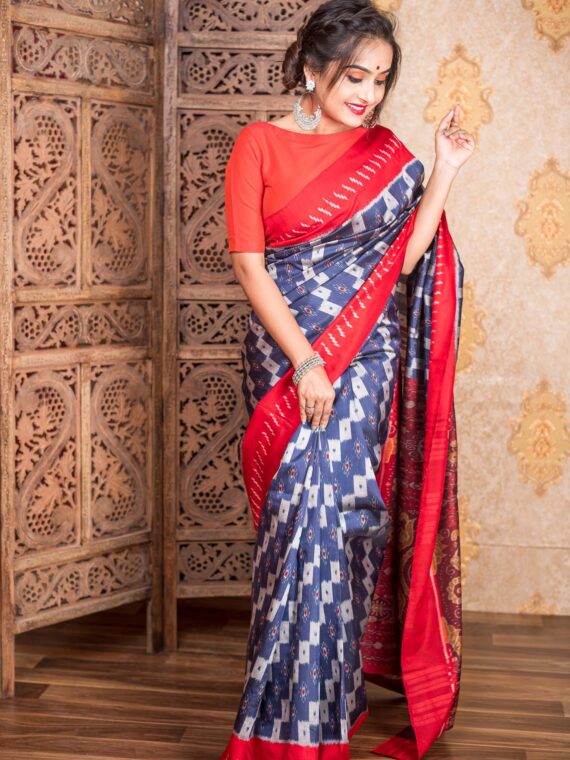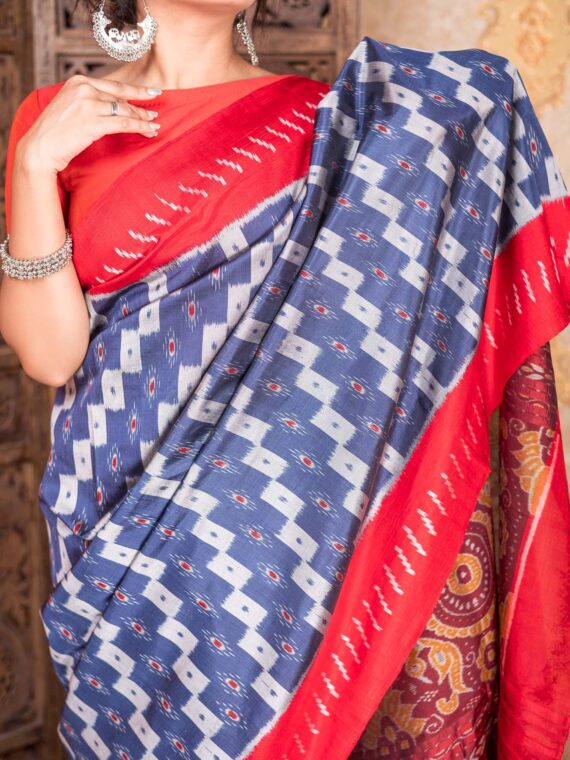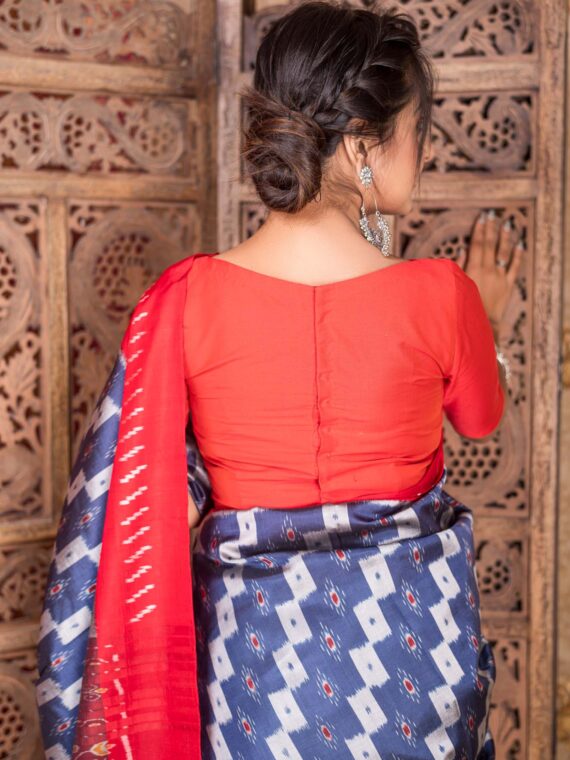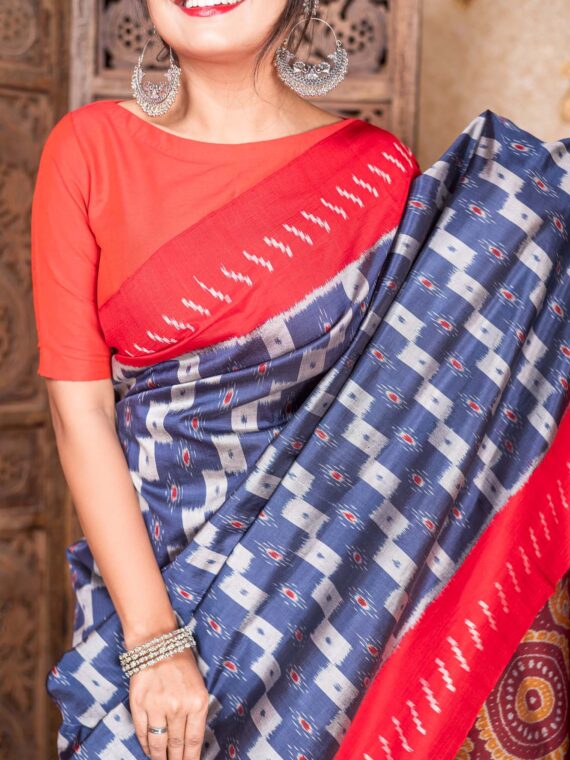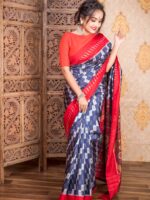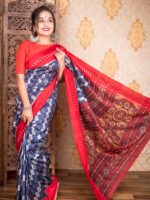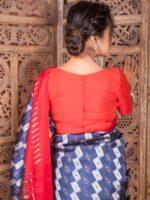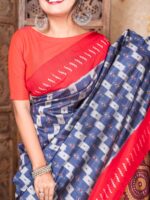 | | |
| --- | --- |
| Occasion | Corporate/ Party |
| Fabric Care | Dry clean only |
| Fabric | Pure Silk |
| Type | Khandua |
| Blouse | 1 Meter unstitched blouse fabric |
| Saree Length | 5.50 meter |
| Colour | Greyish Blue with red border |
| Style | Full body design |
| Weight | 500 gm |
22
people are viewing this right now
Out of stock
Email when stock available

Guaranteed safe & secure checkout
Description
Tie /dye technique of Odisha.
Age old khandua pure silk with half body design. Tribal doll along with small khandua motifs is being completed by red border.
Model is wearing a sample blouse same can be made on order.
Shipping cost is based on weight. Just add products to your cart and use the Shipping Calculator to see the shipping price.
We want you to be 100% satisfied with your purchase. Items can be returned or exchanged within 30 days of delivery.
There are no question found.
Quick Comparison
Settings
Love for Motifs

remove

The Tribal Saga

remove

The Tribal Saga

remove

Love for Motifs

remove

Checks in Trend

remove

Love for Motifs

remove

Image
SKU
AKI/KSLK/36
AKI/KSLK/20
AKI/KSLK/24
AKI/KSLK/09
AKI/KSLK/12
AKI/KSLK/18
Rating
Price
Stock

Out of stock

Out of stock

Out of stock

Out of stock

Out of stock

Description

| | |
| --- | --- |
| Occasion | Corporate/ Party |
| Fabric Care | Dry clean only |
| Fabric | Pure Silk |
| Type | Khandua |
| Blouse | 1 Meter unstitched blouse fabric |
| Saree Length | 5.50 meter |
| Colour | Greyish Blue with red border |
| Style | Full body design |
| Weight | 500 gm |

| | |
| --- | --- |
| Occasion | Corporate/ Party |
| Fabric Care | Dry clean only |
| Fabric | Pure Silk |
| Type | Khandua |
| Blouse | 1 Meter unstitched blouse fabric |
| Saree Length | 5.50 meter |
| Colour | Blue |
| Style | Tribal art with hut |
| Weight | 500 gm |

| | |
| --- | --- |
| Occasion | Corporate/ Party |
| Fabric Care | Dry clean only |
| Fabric | Pure Silk |
| Type | Khandua |
| Blouse | 1 Meter unstitched blouse fabric |
| Saree Length | 5.50 meter |
| Colour | Blue and purple |
| Style | Tribal couple |
| Weight | 500 gm |

| | |
| --- | --- |
| Occasion | Corporate/ Party |
| Fabric Care | Dry clean only |
| Fabric | Pure Silk |
| Type | Khandua |
| Blouse | 1 Meter unstitched blouse fabric |
| Saree Length | 5.50 meter |
| Colour | Light maroon |
| Style | Fish motifs all over the saree |
| Weight | 500 gm |

| | |
| --- | --- |
| Occasion | Corporate/ Party |
| Fabric Care | Dry clean only |
| Fabric | Pure Silk |
| Type | Khandua |
| Blouse | 1 Meter unstitched blouse fabric |
| Saree Length | 5.50 meter |
| Colour | Purple |
| Style | Checks design/checks border with checks motifs. |
| Weight | 500 gm |

| | |
| --- | --- |
| Occasion | Corporate/ Party |
| Fabric Care | Dry clean only |
| Fabric | Pure Silk |
| Type | Khandua |
| Blouse | 1 Meter unstitched blouse fabric |
| Saree Length | 5.50 meter |
| Colour | White |
| Style | Sambalpuri border with butti. |
| Weight | 500 gm |

Weight
0.5
0.5
0.5
0.5
0.5
0.5
Dimensions
35.56 × 6.35 × 35.56 cm
35.56 × 6.35 × 35.56 cm
35.56 × 6.35 × 35.56 cm
35.56 × 6.35 × 35.56 cm
35.56 × 6.35 × 35.56 cm
35.56 × 6.35 × 35.56 cm
Additional information

| | |
| --- | --- |
| Weight | 0.5 kg |
| Dimensions | 35.56 × 6.35 × 35.56 cm |

| | |
| --- | --- |
| Weight | 0.5 kg |
| Dimensions | 35.56 × 6.35 × 35.56 cm |

| | |
| --- | --- |
| Weight | 0.5 kg |
| Dimensions | 35.56 × 6.35 × 35.56 cm |

| | |
| --- | --- |
| Weight | 0.5 kg |
| Dimensions | 35.56 × 6.35 × 35.56 cm |

| | |
| --- | --- |
| Weight | 0.5 kg |
| Dimensions | 35.56 × 6.35 × 35.56 cm |

| | |
| --- | --- |
| Weight | 0.5 kg |
| Dimensions | 35.56 × 6.35 × 35.56 cm |

Add to cart