Monsoon Magic
August 21, 2023
2023-08-21 13:40
Monsoon Magic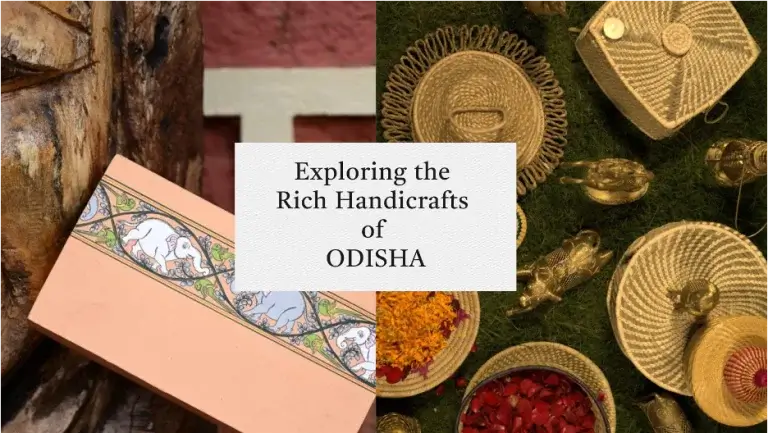 Monsoon Magic
Adorn Yourself with Atulyakarigari's Artisanal Treasures from Odisha
As the monsoon showers quench the thirst of parched lands, nature reveals its lush green beauty and the air carries the sweet scent of wet earth. Monsoons bring a magical charm to the world around us, and what better way to celebrate this season of rejuvenation than by adorning yourself with exquisite artisanal treasures from Odisha? Atulyakarigari, a renowned handcrafted jewellery brand, captures the essence of Odisha's rich cultural heritage in its meticulously crafted pieces. Let's embark on a journey to explore the monsoon magic of these artisanal gems and embrace the elegance they bestow upon us.
Odisha's Artistic Legacy
Odisha, often called the land of art and culture, has a centuries-old tradition of craftsmanship. The skilled artisans of this state have been honing their craft for generations, passing down age-old techniques that result in timeless masterpieces. From enchanting handlooms to intricately designed handicrafts, Odisha's artisanal treasures reflect the essence of its diverse cultural heritage.
Atulyakarigari
Where Art Meets Elegance: Atulyakarigari, a jewellery brand deeply rooted in Odisha's artistic legacy, has taken it upon itself to preserve and promote the region's age-old art forms. By blending traditional techniques with contemporary designs, they create genuinely one-of-a-kind pieces. Each ornament tells a story of skilled craftsmanship, attention to detail, and a passion for preserving the cultural heritage of Odisha.
The Magic of Handloom
Sawaan, the rain season, finds its essence in the handwoven fabrics of Odisha's handlooms. Vibrant Sambalpuri sarees and Ikat textiles exude elegance and grace. Atulyakarigari has collaborated with skilled weavers to create a mesmerising collection of handloom jewellery. Delicate necklaces inspired by Sambalpuri sarees and intricately woven earrings that mirror the beauty of Ikat textiles will leave you spellbound.
Artisans The Soul of Atulyakarigari
The backbone of Atulyakarigari's brilliance lies in the skilled artisans who breathe life into their designs. These talented craftsmen and craftswomen have inherited their artistry from their ancestors, and their hands work magic with every piece they create. Through their dedication, they preserve the legacy of Odisha's traditional jewellery-making techniques, infusing every ornament with a sense of pride and cultural heritage.
Handicrafts that Tell Tales
Odisha's handicrafts are awe-inspiring. From the enchanting filigree work of Cuttack to the stunning stone carvings of Konark, the state's handicrafts are a testament to the mastery of its artisans. Atulyakarigari's jewellery designs incorporate elements of these crafts into their jewellery designs. Bracelets adorned with delicate filigree motifs and pendants reflecting the grandeur of Konark's architectural marvels are an authentic tribute to the artistry of Odisha.
Embrace the Monsoon Magic
As the monsoon season casts its spell upon us, it's time to embrace the magic it brings. Atulyakarigari's artisanal treasures allow us to connect with Odisha's cultural roots while adorning ourselves with timeless elegance. By wearing these handcrafted pieces, we become the bearers of art and preservers of a precious legacy.
Conclusion
Monsoon is a season of renewal, and what better way to celebrate it than by embracing the rich cultural heritage of Odisha through Atulyakarigari's artisanal treasures. Handlooms, artisans, and handicrafts intertwine to create jewellery that is as unique as the raindrops that grace the earth during Sawaan. Let us adorn ourselves with the magical essence of Odisha's artistry and cherish the stories these pieces carry, keeping the monsoon magic alive for years.