Handlooms: Weaving Traditions into the Fabric of Sawaan's Beauty
August 21, 2023
2023-08-21 13:39
Handlooms: Weaving Traditions into the Fabric of Sawaan's Beauty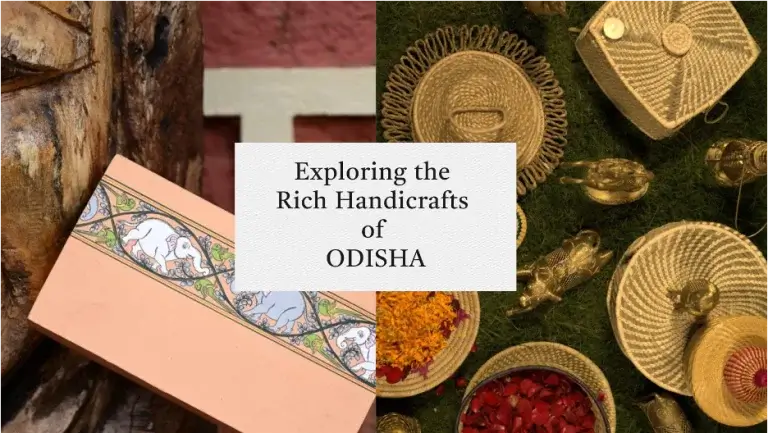 Handlooms: Weaving Traditions into the Fabric of Sawaan's Beauty
The monsoon season, known as Sawaan, brings a sense of freshness and rejuvenation. As raindrops grace the earth and nature adorns itself in lush greenery, it is the perfect time to embrace the beauty of handlooms. 
Handlooms are not just textiles; they are the threads that connect us to our cultural heritage, weaving traditions into every intricate pattern. 
In this blog, we will explore the enchanting allure of handlooms during Sawaan and present the top 5 handlooms to adorn yourself with during this magical season.
Banarasi Silk
Banarasi Silk is a timeless classic that epitomises elegance and grandeur. Originating from Varanasi, Uttar Pradesh, this handloom marvel is known for its luxurious feel and opulent designs. During Sawaan, draping yourself in a resplendent Banarasi Silk saree will add a regal charm to your look. The intricate zari work and rich motifs on silk fabric complement the festive spirit of Sawaan.
Chanderi Saree
Lightweight and ethereal, Chanderi sarees from Madhya Pradesh are a delightful choice for the monsoon season. These handlooms are made with a blend of silk and cotton, with delicate, artistic motifs that exude sheer grace. Chanderi sarees are perfect for casual and formal occasions during Sawaan, making you feel comfortable while looking effortlessly elegant.
Assam Muga Silk
Embrace the magic of Assam with the exquisite Muga Silk handloom sarees. Known for their natural golden sheen, these silk sarees are woven with utmost precision by skilled artisans. Muga Silk drapes beautifully and is perfect for the monsoon season. The allure of Muga Silk lies in its simplicity, making it a top choice for those who appreciate understated elegance.
Paithani Saree
Originating from Maharashtra, Paithani sarees celebrate the rich heritage and artistic brilliance. Adorned with vibrant colours and intricately woven peacock motifs, these handlooms are a visual treat. Paithani sarees add a touch of traditional charm to any occasion during Sawaan, making you stand out in a crowd with their unmatched beauty.
Phulkari Dupatta
Hailing from Punjab, Phulkari is an enchanting embroidery art form that finds its way onto exquisite dupattas. Phulkari's vibrant and colourful threadwork beautifully complements the monsoon season's cheerful spirit. Pairing a Phulkari dupatta with a plain outfit instantly adds a splash of vivacity and cultural richness to your look, making it perfect for Sawaan festivities.
Conclusion
Handlooms are not merely fabrics but storytellers of our culture and traditions. Sawaan, the season of beauty and joy, provides the perfect backdrop to embrace the allure of handlooms. Whether it's the regal Banarasi Silk, the delicate Chanderi saree, the golden sheen of Assam Muga Silk, the artistic Paithani, or the vibrant Phulkari, each handloom brings its unique charm to enhance your style during this magical season.
This Sawaan, let us celebrate skilled artisans' craftsmanship and handlooms' rich heritage by draping ourselves in these mesmerising fabrics. As the raindrops fall, let the beauty of handlooms weave a tapestry of traditions and elegance, making you feel exceptional and connected to the artistic legacy of our country.