From Pattachitra to Dhokra
August 21, 2023
2023-08-21 13:55
From Pattachitra to Dhokra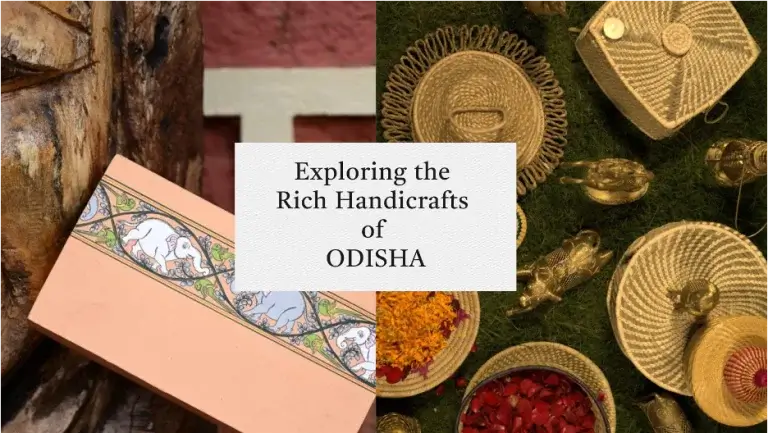 From Pattachitra to Dhokra
The Diverse World of Handcrafted Art in Odisha
Odisha, located in the northeastern peninsula of India, is a land that showcases the confluence of the Aryan, Dravidian, and Adivasi cultures. The influence of these diverse cultures can be seen in the handicrafts of varying scales that the state has to offer. From the intricate Pattachitra paintings to the unique Dhokra metal sculptures, Odisha boasts a plethora of traditional art forms that have been passed down from generation to generation. Each art form possesses its distinct style, technique, and cultural significance, making them an integral part of Odisha's cultural identity.
Pattachitra: A Colorful Tale on Cloth
One of the most famous art forms in Odisha is Pattachitra, a traditional cloth-based scroll painting that originated in the village of Raghurajpur, near Puri. The word 'Pattachitra' derives from two Sanskrit words, 'Patta' meaning cloth and 'Chitra' meaning picture. These exquisite paintings are created on cloth first coated with a mixture of tamarind seed powder and water. The skilled artists then employ natural dyes to paint intricate designs and motifs, depicting mythological stories, religious themes, and everyday life. Pattachitra paintings are renowned for their vibrant colours, fine details, and intricate patterns, captivating the viewer's imagination.
Dhokra: Preserving Ancient Metal Casting Techniques
Another prominent art form in Odisha is Dhokra, which showcases the exceptional skill of metal casting. The art of Dhokra is primarily practised in southwest Odisha, specifically in regions such as Kuliana in the Mayurbhanj district, Kaimatin in the Keonjhar district, Haradagaria in the Puri district, and Sadeibarni in the Dhenkanal district. The technique involves creating a clay mold into which molten metal is poured. Once the metal cools and solidifies, the clay mold is broken, revealing a unique and intricate metal sculpture. Dhokra sculptures are characterised by intricate designs and motifs, often depicting animals, birds, and human figures. Using an alloy comprising nickel, brass, and zinc imparts an antique look to these masterpieces, blending seamlessly with various interior settings.
Beyond Pattachitra and Dhokra: A Multitude of Handicrafts
Odisha is a treasure trove of other exceptional handicrafts as well, showcasing the craftsmanship of its artisans. Some noteworthy art forms include:
Sambalpuri Textiles: Weaving Sophistication
Sambalpuri textiles are woven by skilled weavers in the western part of the state. These textiles are known for their sophisticated designs and motifs, achieved using the 'Ikat' technique. In this technique, the yarn is dyed before weaving, resulting in intricate patterns and vibrant colours.
Stone Carving and Wood Carving: Temples as Living Testimonies
The temple towns of Puri and Bhubaneswar are renowned for their intricate stone and wood carvings. These magnificent carvings can be observed on temple walls, pillars, and doorways, reflecting the artistic finesse of the craftsmen. The intricacy and beauty of these carvings add to the charm of the temple architecture in Odisha.
Silver Filigree Work: Delicate Intricacy
Silver filigree work is an art form that involves twisting and shaping thin silver wires into intricate designs. This delicate craft showcases the creativity and skill of the artisans, resulting in beautiful jewellery and decorative items.
Terracotta Pottery: Evoking Earth's Essence
Meaning "baked earth," terracotta pottery has evolved from the art of making clay pots and utensils to include indoor and outdoor decoration and utility products. This art form reflects the connection between the artisans and the earth, showcasing their creativity through unique and artistic clay creations.
Preserving Cultural Heritage and Livelihoods
In conclusion, the diverse world of handcrafted art in Odisha stands as a testament to the state's rich cultural heritage and artistic traditions. From Pattachitra to Dhokra and the various other art forms, each holds a unique style, technique, and cultural significance. These art forms have been passed down from generation to generation and continue to thrive today, thanks to the relentless efforts of skilled craftsmen and artisans. Not only do these handicrafts contribute to the beauty of Odisha's cultural landscape, but they also provide livelihoods to thousands of people across the state. It is through the preservation and appreciation of these art forms that the legacy of Odisha's handicrafts can endure and inspire future generations.