A Beginner's Guide to Buying Handicraft Products in Odisha
August 21, 2023
2023-08-21 14:02
A Beginner's Guide to Buying Handicraft Products in Odisha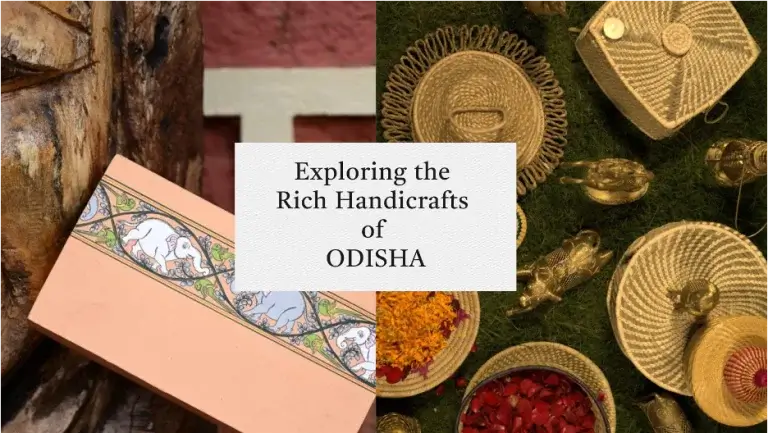 A Beginner's Guide to Buying Handicraft Products in Odisha
Odisha's rich cultural heritage and remarkable handicrafts have captivated art enthusiasts worldwide. The state offers a treasure trove of handmade wonders, from exquisite silver filigrees to stunning hand-woven textiles.
If you're new to handicraft shopping, navigating the options can be challenging. This beginner's guide is here to help you make informed and meaningful purchases, ensuring that you not only own a beautiful piece of art but also contribute to preserving centuries-old traditions and supporting local artisans.
Step 1: Consider the Purpose and Space
Before diving into the world of handicrafts, take a moment to ponder the purpose of your purchase. Are you buying a piece for personal use or as a thoughtful gift for someone? Each handicraft is imbued with cultural significance and history, so understanding the purpose behind your purchase will help you choose a piece that resonates with its meaning.
Additionally, consider the space where the handicraft will be placed or used. In a modern world filled with contemporary designs, envision how the traditional beauty of the handicraft will complement your surroundings.
Step 2: The Next Steps
Research: Start your journey by delving into the world of the specific art form that captures your interest. Learn about its history, the techniques involved, and the materials used in crafting these handmade treasures. This knowledge will deepen your appreciation for craftsmanship and guide you towards a more informed decision.
Authenticity Matters: When buying handicrafts, authenticity is critical. Ensure that the piece is genuinely handmade and not mass-produced. Look for irregularities or marks of craftsmanship that make them one-of-kind. Pay attention to the materials used and the finishing.
Embrace Quality: Handicrafts are celebrated for their durability and excellent craftsmanship. While shopping, pay close attention to details like stitching, design, and overall finish. A well-made handicraft will stand the test of time and bring joy for years.
Price Reflection: Handicrafts are often priced higher than factory-produced items due to their uniqueness and meticulous workmanship. It is essential to understand that the cost goes beyond materials; it reflects the skilled manpower and the time invested in creating these beautiful art pieces.
Embrace Sustainability: By choosing handicrafts, you embrace sustainability. These products are crafted from sustainable materials and contribute to preserving cultural traditions. Supporting handicrafts ensures that our culture and heritage thrive while providing a sustainable livelihood for artisans.
Support Local Artisans: Consider buying handicrafts directly from local artisans or cooperatives to make a difference. This way, you ensure that the artisans receive a fair price for their exquisite work. Moreover, your support promotes the preservation of traditional crafts and boosts the local economy.
Conclusion
Buying handicrafts in Odisha is a journey of appreciation, culture, and sustainability. By following these simple guidelines, you can make meaningful purchases that add beauty to your life, uphold centuries-old traditions, and support the talented artisans of this incredible state. Let your investments reflect your admiration for craftsmanship and commitment to preserving cultural heritage, one handicraft at a time.